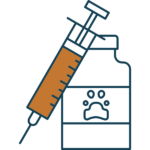 We offer a full service pharmacy for our clients so that they can leave their pet's veterinary visit with peace of mind of having their important medications in hand or on the way to their homes. Whether your pet is in need of antibiotics or preventative medications, our pharmacy is stocked to fit the needs of our patients.
Veterinary medical supply companies support client-veterinarian-patient bonds and  only have relationships with practicing Veterinarians. Therefore, we do not recommend receiving medications from a non-veterinary online source due to safety concerns pertaining to the uncertainty of the origin of the medication and to the lack of manufacturer guarantees.
Please note that state laws prohibit a veterinarian from dispensing or prescribing legend (prescription) medications without prior examination of your animal's health. In addition, some patients may also require laboratory work prior to a prescription refill.
Prescription Refills
You have 2 easy and convenient ways to get your pets' medications:
Call our office to pre-order and directly pickup your pets' medications and food from our front desk. Please allow at least 2 hours to get medication approved and filled.
Visit our Online Pet Pharmacy and Prescription Management Service, order online and have Home Delivery of your medications and prescription diets. Please allow up to 24 hours for approval of medication.
When our doctors schedule a Medical Progress Visit for your pet, they are evaluating if our diagnosis of your pet's problem is correct and to see if the treatment and medications prescribed has helped to solve the problem.  It is very important to keep these Medical Progress Visit appointments so that our doctors are able to approve future prescription refills if deemed necessary.
Home Delivery
As clients of Asheville Highway Animal Hospital, we know that you are dedicated to the health and well-being of your furry family members. We also understand how our busy lives can make frequent trips to our office time consuming and often inconvenient.  We are pleased to announce online pharmacy which will allow you to get the prescriptions you need without having to compromise your pet's health or your schedule.
How is the AHAH home delivery pharmacy different from other online pharmacies?
| | | |
| --- | --- | --- |
|   | AHAH Home Delivery Pharmacy | Other Online Pharmacies |
| Convenient Home Delivery | Yes | Yes |
| Shipping & Handling | Same | Same |
| Safety | Yes | Unknown |
| Guaranteed FDA Approved | Yes | No |
| Guaranteed FDA  Inspected | Yes | No |
| Manufacturer Guaranteed | Yes | No |
| Monthly Single Dose purchase | Yes | No |