We are proud to offer boarding for dogs, cats, and exotic pets.  Whether its just for the day, overnight, or for an extended stay, our number one goal when keeping your family members is to ensure they are happy and healthy. In order to maintain this healthy environment, we require that all pets are up to date on the following:
For Dogs: Rabies, Distemper/Parvo, Leptospirosis, Bordetella (kennel cough), and semi-annual fecal test.
For Cats: Rabies, Feline Distemper, and semi-annual fecal test. 
For Exotics: Yearly physical exam and fecal test.
Please note that at this time, we are requiring Bordetella vaccines to be done at least 4 days prior to boarding your dog, preferably a week prior if possible.
Boarding drop-off and pickup times are during our regular business hours of 7:30am – 5:30pm Monday through Friday, and 8:30am – 2:00pm on Saturdays. However, to give our staff plenty of time to take care of your reservation in a timely manner, we would prefer you to be here 30 minutes prior to closing, if dropping off or picking up in the later afternoon hours.
Available by appointment only, AHAH also now offers Sunday pick up between 5:00 pm and 5:15 pm. Sunday Pick-Up requires prepayment at the time of drop-off.
See below for boarding accommodation details!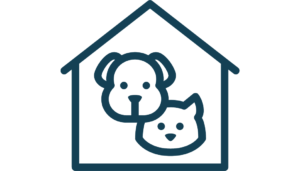 Dog Housing Facility
Here at AHAH, each dog will have his or her own large, stainless steel private run in our indoor, climate-controlled facility. During they day, they will also be allowed to spend a little time in our well-shaded outside runs. Our kennel technicians stay on top of the weather forecast, so rest assured your pets are never exposed to extreme hot or cold conditions, or otherwise bad weather conditions while they are outside. Additionally, housemates can stay together in the same run, if desired. We will also provide your dog with a cozy cot in their run. However, you are welcome to bring their personal bed, blanket, or anything else that will give their accommodations a more personal touch, if desired.
Because your pet's health is so important to us, our runs also include flushing drains for easy cleaning, as well as an air scrubbing machine that filters out hair and other microbes. We also have trained Veterinary Assistants available to administer any medications needed, as well as trained Petcare Attendants who are available to personally check elimination habits each day.
Purina Sensitive Stomach dry food is on hand to feed your dog during the day. However, if your pet is on a special diet and/or needs to adhere to a specific feeding schedule, please let us know and we will be happy to accommodate.
All dogs will be walked no less than twice a day in our dog exercise area. However, we do offer several "a-la-carte" services including extra play times for your pet if you want them to spend a little extra time in our yard.
Cat Housing Facility
AHAH cats are housed in a climate-controlled, air-filtered room with large windows that allow exposure to sunlight. Each cat is housed separately in their own kitty condo. The condos have a glass back, allowing them to see outside, and they have a perch for resting. Duplex condos are available if clients want larger housing for their cat, and we do offer the option of boarding housemates together, if desired.
Inside the condos, we will have a comfy couch for your kitty. We do also provide a litter box. However, just as with our dog boarding, we encourage you to bring your cat's personal blankets, toys, or anything you feel may make their stay more comfortable. All cats will have 2 play periods with a member of our kennel staff each day. 

Exotic Pet Housing
We are proud to offer boarding for a few different exotic pets. If you plan on having your pet stay with us, we require that you bring their cage, bedding, food, medications (if applicable), and any special instructions.
Prior to your pet's stay, we prefer that you schedule a time to meet our Veterinarian staff who examines exotic pets in order get to know your pet with a brief office exam.
AHAH Add-on Boarding Services
Extra play times

– supervised 15 minute play time with activities in our dog exercise area. This may include throwing frisbee/tennis balls and time in our kiddie pool, if desired.

Baths

– each AHAH bath includes a nail trim, ear clean, and anal gland expression. Prices for baths vary based on weight.

Shears

– AHAH shear hair cuts include  a bath, nail trim, ear clean, brushing, and an anal gland expression. Hair is cut the same length all over (approx, 1/4″).  Prices for shears vary based on weight.
                                                     Check out our happy boarders below!