The grooming service includes haircut, medicated bath, nail trim, anal gland expression and ear cleaning. The bath service includes medicated bath, nail trim, anal gland expression,  ear cleaning, and 15 minute brushing. Pricing will vary based on the breed, weight, and hair. Flea dips are also available.
All pets who will be pampered by our Certified Groomer with a haircut or by one of our Pet Care Attendants with a medicated bath will need to be up-to-date on the following:
Dogs
Rabies Vaccination * DHPPV Vaccination * Coronavirus/Leptosporosis Vaccination * Bordetella Vaccination
Cats
Rabies Vaccination * FVRCP Vaccination
Meet the Groomer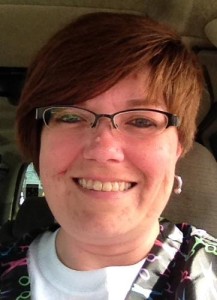 Heather has worked for Asheville Highway Animal Hospital since July 2007.  She was a happy client for several years prior to employment as a Kennel Attendant.  She attended Concord School of Grooming and attained her Master Groomer Certification in August 2008.
As an animal lover, Heather has a particular soft spot for elderly pets.  It's her belief  that they have earned respect through years of loyal love.  She understands they may have aches and pains and need special handling throughout the grooming process.  Whether you have a first time puppy groom or a seasoned veteran, your pet's time on Heather's grooming table will be as easy and stress free as she can possibly make it. There are a team of assistants to help her keep your furry family members calm and comfortable while they are in our care.
Heather shares her home with six dogs and a cockatiel. She is involved with a pit bull rescue.  Therefore, the number of animals in her home is always subject to change.
Additional Grooming Services
Teeth Brushing
Nail Painting
Festive Temporary Hair Dye (white or light colored coats only)
Rotary Nail Filing
Hand Scissoring
Hot Oil Treatments
Furminator De-shedding Treatments (see below)
Body Bling (temporary appliques)
Clipping of eyes, face, and feet for the grow-out between grooms
Frequently Asked Grooming Questions
Why does my dog shed so much? The simple answer to why dogs shed is because it is the natural hair cycle.  We shed as well; we are just not covered from head to foot in hair.  If you look at your dog and just imagine all the hair in just one square inch of the body, it becomes easy to see why your couch and clothes stay covered in hair.  Our bodies have one hair coming out of each follicle.  With dogs, one guard or thick hair comes out of each follicle along with 4 to 10 soft or undercoat hairs depending on the breed of dog you have.  Dogs such as pugs, labs, huskies, and most terrier breeds have what is called a double coat.  A Furminator Treatment may be recommended to reduce shedding.
What is a Furminator Treatment?  The Furminator works in a 3 part system of shampoo and conditioner with high levels of silicone.  This gives the coat "slide" enabling the hairs that are dead at the time of application the slickness and texture to clump together and slide out as the dog is washed.  The second step is the high velocity dryer that we use after the bath.  This blows all the loose dead hair from the coat as we are drying the dog.  The last step is the furminator brush.  It is a very fine toothed brush that traps all the dead hair left in the coat.  It is recommended to have the furminator treatment done about every 4 weeks.  When used as recommended, the Furminator  will reduce shedding about 80%!! The Furminator treatment is not just for dogs either.  It works very well on cats. The less hair that a cat will groom from themselves means less hairballs on the floor.
How often should my pet get a groom? It is recommended that pets be groomed every 6-8 weeks.
What are "mats"?   Mats are clumps of fur that gather together and often look like dreadlocks.  Moisture may collect under the mat and on the pet's skin potentially causing minor to severe skin irritations,  infections, and even inhabit insect larvae. Mats often occur in the most sensitive areas such as under the arms, behind the thighs, around the groin area, and behind the ears.  It is extremely painful and not healthy for a pet to have mats; therefore, every step should be taken to prevent and/or treat mats.
How do I prevent my pet from getting "mats"?  Brush your pet frequently with a pin style brush and a metal comb.  If you find a small mat, start at the end of the hair and work the mat out with the comb.  Never put the comb under the mat and pull it out.  If you are not able to brush your pet due to mats, enlist the assistance of a  certified master groomer or a trained Pet Care Attendant
 Before and After Photos