Here at Asheville Highway Animal Hospital, we offer a variety of spa services so your pet can come spend the day being pampered by one of our loving Pet Care Attendants. Below are some details on what you can expect during a spa day at AHAH –
Dogs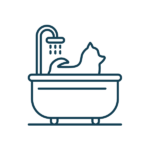 Our shear cut for dogs is a non-cosmetic shave that takes the hair down to ¾ of an inch all over. Included in our shear is a bath, nail trim, anal gland expression, and ear cleaning. Pricing will vary based on the weight and length of hair.
We also offer a few types of baths. Our bath service for dogs includes a standard shampooing, or we can use a sensitive skin shampoo at your request. We also offer flea dips. However, every bath includes a nail trim, anal gland expression, ear cleaning, and a brush out.
CATS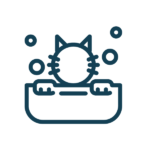 For cats, we offer a bath that includes a brush out, nail trim, and ear cleaning. If your cat has any special skin or hair needs such as dandruff, grease, or skin allergies, just let us know. We keep a wide variety of shampoos on hand to make sure we can take complete care of your kitties and make them as comfortable as possible.  
We do not do any actual shear downs on cats unless deemed medically necessary by a doctor, as a cat's hair is attached to sensitive nerve endings on their skin. However, we can trim their belly or "potty patch" area, and give them a good brush out.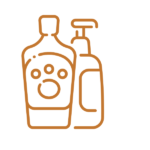 We do also offer additional spa services which your pet my benefit from. Additional services include the following:
Teeth Brushing
Nail filing (added on to nail trim)
De-shedding treatment (furminator)
Face and feet trims (dogs only) and potty patch trims (dogs and cats)
Nail painting
Nail cap application and replacement
In order to take advantage of our spa services and to ensure our spa is clean and safe for all pets to enjoy, your pets will need to be up-to-date on the following –
Dogs: Rabies Vaccination, Distemper/Parvo Vaccination, Leptospirosis Vaccination, Bordetella (kennel cough) Vaccination, and Semi-annual Fecal Check
Cats: Rabies Vaccination, Feline Distemper Vaccination, and Semi-annual Fecal Check
Questions about any of our spa services? Want to book a spay day for your baby? Give us a call at 865-523-8434!