AHAH Annual Fall Festival
Each year in September, Asheville Highway Animal Hospital has a FREE event for our clients, patients, and the community.  Our annual fall festival consists of FREE food, FREE inflatables, FREE gifts, FREE nail trims, discount micro chipping, dog superlatives, a children's dog show and FREE fun and games for the entire family.
Operation Kibble
Operation Kibble is a program originated by one of our compassionate team members in 2012.  We collect dog & cat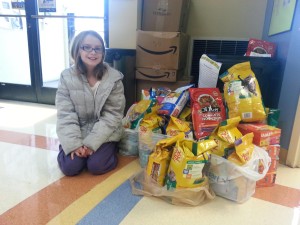 food (small bags of dry food and cans) year round . We are also collect beds, food bowls, toys and treats. However, the greatest need is the food. One hundred percent of the donations benefit homebound seniors who are currently signed up through the Knox County Office on Aging. They are also connected with Placing Animals With Seniors (PAWS), another local pet feeding program.  Pictured is a young lady who asked for pet food donations in lieu of gifts for her birthday.  She chose to "pay it forward" and donated the items to Operation Kibble.  Please drop off the donated items at the office of Asheville Highway Animal Hospital at 4516 Asheville Hwy, Knoxville TN 37914. If you have any questions please contact Jinean at (865) 523-8434.
AHAH Blood Drives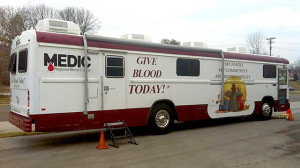 Asheville Highway Animal Hospital had its first blood drive on October 31, 2011. We hosted the blood drive in honor of an employee who was battling prostate and lung cancer. This employee needed to have blood transfusions during his cancer treatments. Blood transfusions can be very expensive. We had the blood drive to help with the expense of these treatments. For every unit of blood that was donated the employee was given a unit at no charge. After the amazing turnout we had, we decided to help out our community and have annual blood drives. We followed up with a blood drive in January 2012. Our turnout was even better than the previous donation. We hope to continue to serve our community and give the gift of life every January. Please keep checking our website for upcoming blood drive dates to help us help others.
Buddy's Race for the Cure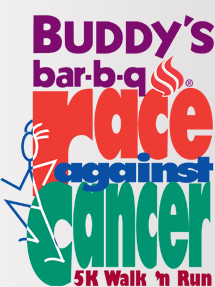 Cancer is a terrifying experience for those diagnosed with it as well as for those who feel its affects on our friends    and loved ones. While we as individuals are powerless over cancer, we are not when we stand together, united, against this terrible plague. No one expects cancer to happen to them but, unfortunately, it can and does. We here at AHAH have felt the impact directly from our friends, families and even some of our own employees. At AHAH we assist our four-legged family members with cancer every day and we recently decided that we could do more to raise money in the fight against cancer to assist our two-legged friends as well. Participating in Buddy's Race Against Cancer makes an impact right here in our community and shows support for those diagnosed. So far, the 25 team members of AHAH have raised money through fundraising and donations; and we hope to make our participation an annual event.
Future Vet Youth Program
Are you interested in the field of Veterinary Medicine? Asheville Highway Animal Hospital began a Future Vet Youth Program in 2009 encouraging young people in 6th grade thru 12th grade to "shadow" our team.  All participants will receive hands-on experience with our doctors and the entire team.   Each participant will successfully complete 5 days of training about veterinary medicine and preventative care within 5 weeks.  All participants will receive a certificate upon successful completion.  If you want to know if Veterinary Medicine is the field for you, please complete the application below and print the additional information pertaining to the program.
Small Group Tours (up to 10 people)
We love to share our passion for animals with others.  Small school groups, Girl Scouts, Boy Scouts, and Summer Camps may experience an AHAH tour learning about basic pet care and all of the professions involved in the field of veterinary medicine.  If you are interested in a small group tour, please contact Melba at 865-523-8434 for more information.