Veterinarians
---
Management
Melba Kendrick – Practice Manager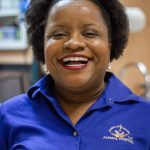 Melba Kendrick is the practice manager and is a graduate of Spelman College with a B.A. in Spanish and from Auburn University with a Masters of Education in Curriculum and Teaching Spanish. Before joining the family practice in June of 2006, she taught high school Spanish for over 10 years. She has studied in many different countries including the Dominican Republic, Costa Rica, Mexico and Peru. Melba is the wife of Dr. Rick and enjoys spending time with her family including her daughter, Elena, her son, Noah, and her baby girl, Gianna. She also enjoys volunteering within the community and her church, traveling, and home renovation projects.
---
Amanda Farrell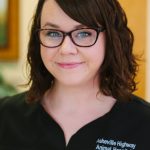 Amanda began her veterinary career in 2001 as a receptionist, later becoming front office manager, at a small animal hospital in Clinton, TN.  Seven years later, she moved to Knoxville and joined the AHAH team in September, 2008.  Amanda is a born animal lover who knew very early on that she wanted to dedicate her life to their care and well-being. She and her husband, James, currently have 3 dogs (Becky, Jasper, & Parker), 3 cats (Toby, Olive,& Colin) and a pot-bellied pig (Sammie) in their care. Amanda enjoys nothing more than spending quality time at home with her family, a good book, and a giant cup of coffee.

---
Jessica Downs
After acquiring a B.S. degree in Agriculture from Murray State University in Murray, Kentucky in 2003, Jessica expressed an interest in working in the field of veterinary medicine.  She worked in Key Largo, Florida before joining the AHAH team in March of 2007. Jessica began working at the front desk and eventually became a veterinary assistant.  Due to hard work and dedication, she was promoted to Treatment & Inventory Manager in 2013.  She and her husband, Chris, have a beautiful little girl, Dani, and a cat named Big Momma. In her free time, she enjoys spending time with her family, reading, and traveling.
---
Autumn Roberts
Autumn joined the AHAH team in April 2015.   She was promoted to the kennel manager in June 2016.  She's always been around animals and has had numerous dogs and cats as pets since before she can remember.  Even as a child she constantly took box turtles, toads, lizards, etc. home.  She currently has 3 dogs; a very spoiled senior boxer named Chaco, a very energetic senior dachshund named Cornelius (Corny for short), and a lazy pit/lab mix named Sofie.  In her small amount of spare time, Autumn enjoys playing with her dogs and spending time with her family.   She also enjoys reading, taking walks, drawing, traveling, photography, yoga, a nice cup of coffee or tea, and going on adventures.
---
Susan Karnes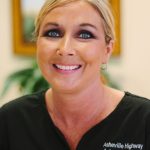 Susan has been with the Asheville Highway Animal Hospital team since 2000 and part of management and bookkeeping since 2016. She has 2 handsome sons,  Michael and Nicholas, that keep her very busy. She has 3 dogs that are spoiled rotten and rule the house. Susan enjoys exercising, reading and spending time with her family.
---
---